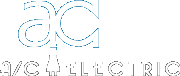 Do it right the first time!
Contact us now! 408.887.2600
A/C Electric is a reputable and well established full-service company, focused on providing high-quality electrical services and design. We offer expertise in all aspects of electrical design, construction and services. Our friendly and skilled electricians are dedicated to providing fast and dependable service at a reasonable price. A/C Electric understands the importance of meeting your building requirements efficiently.
We service the entire Bay Area, and a large percentage of our business originates with repeat customers and referrals from satisfied customers.
Free Estimate
We respect your privacy, and we will use your information only to provide you with accurate information in reply to your inquiry. We will contact you within 24 hours.

A one-hour service call or a multi-phase design/build project, A/C Electric can help.

Efficient, experienced, flexible staff enable A/C Electric to meet your job needs.

We execute large projects with minimal disruption to your business operations.